Life continues to be weird. So we are just rolling with it.
Here, Pilar offers some updates and options for folks who want to stay connected and who are eager keep experimenting through the rest of 2020.
"Mini Update" Episode Highlights
Our commitment to staying true to the energy of the moment and this podcast
The challenges of remotely recording podcast episodes in the context of COVID-19 and all its attendant disruptions
The necessity of putting our retreat plans on hold for now (our growing wait list will have to keep waiting!)
One potential retreat alternative: Pilar's Healthy Deviant U experience
Healthy Deviant U includes:
A year's worth of twice-monthly course sessions with real-life experiments that help you advance your Healthy Deviant skills and confidence — step by step, stage by stage
Alternate-week, twice-monthly office hours with live group coaching and Q and A sessions to help you create greater clarity and momentum
Individualized hot-seat coaching opportunities to help you navigate past hurdles and stuck spots
Community support and accountability, with access to Pilar and a merry band of fellow Healthy Deviants for non-stop encouragement (and gentle-tough love when needed)
Regular infusions of Healthy Deviant wisdom, multimedia content, and tools designed to keep you inspired and moving ever-forward
The four phases of the year-long HDU program focus on helping you establish the three Nonconformist Competencies of Healthy Deviance and then step confidently into your own Healthy Deviant identity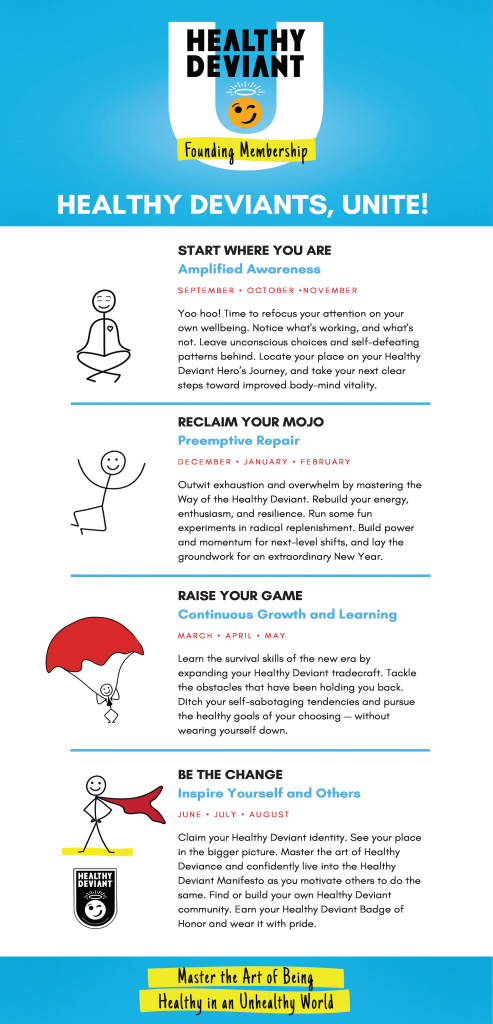 Make yourself a Healthy Deviant mocktail:
Fill your favorite cocktail glass half full with ice
Add your preferred kombucha up to the top of the ice
Add a teaspoon to a tablespoon of juice — whatever 100% pure, preferably organic fruit or berry juice you like (consider apricot or mango nectar)
Top off the glass with sparkling water, ideally something with a simple flavor like lemon, lime, tangerine — or plain
Gently stir
Add a twist of lemon peel, squeeze of lime, or some other fun garnish, taking a moment to run the citrus peel around the rim of the glass
If you want to get fancy, add flowers or umbrellas, or whatever makes you feel celebratory
Smell the drink as you take your first sip, and enjoy!
Resources
If you like this podcast, you will love our books!
Plus …
Sign up for The Living Experiment newsletter so you can stay up to date with us, and receive notifications when new episodes are released.
Subscribe to The Living Experiment on Apple Podcasts to have fresh episodes delivered to your podcast feed as soon as they're released.
Sponsor Love and FREEBIES
Thanks to our sponsor, Optimize by Heroic, for supporting this season of The Living Experiment. Now you can get Optimize membership (formerly $250) for FREE just by signing up here. And check out the Heroic social training platform, with a goal of creating a world in which 51% of the world's population is flourishing by 2051 — starting with YOU!
Share the Love!
Have you told your friends and family about The Living Experiment? If you dig the podcast, please share it! And leave a review at Apple Podcasts or wherever you subscribe. Every recommendation from you means a lot!
We'd also love to have you connect with us on Facebook. Tell us about your experiments, and share your thoughts, stories and reflections there.