This week, Pilar talks with special guests Leslie Salmon Jones and Jeff W. Jones, co-founders of Afro Flow Yoga. Leslie and Jeff created Afro Flow Yoga in 2008, fusing a new blend of expressive movement and rhythmic music from their own explorations of healing and their African-American and Caribbean heritage in West Africa, Haiti and Jamaica. Leslie is an Alvin Ailey-trained dancer, yoga teacher, health coach and community activist. Jeff is an accomplished multi-instrumentalist, vocalist, composer and engineer whose musical roots stretch back through four generations of Black musicians. What they create together is extraordinary. Leslie and Jeff describe Afro Flow Yoga as "an embodied practice, integrating dance movements of the African Diaspora with meditative yoga and live healing music, promoting individual and collective healing in a compassionate, inclusive, non-judgmental and safe environment." Pilar was delighted to have a chance to talk with Leslie and Jeff as part of
The Living Experiment
's COVID-edition live-broadcast series. First, because Leslie and Jeff are themselves great examples of "living experimenters" — creative innovators seeking a healthier way forward. And second, because Afro Flow Yoga is
exactly
the sort of re-centering and healing practice that so many of us are seeking for our own physical, mental and emotional health. So in this conversation, Pilar talks with Leslie and Jeff about what inspired them to create Afro Flow Yoga, the special role this practice has in helping us heal our fractured selves and trauma-stricken culture at this time, and where they see things going from here. If you haven't already checked out one of their virtual classes or retreat experiences, we hope you will — so you can experience the whole-person "aha" of Afro Flow Yoga for yourself.
Note: The audio for this episode was sourced from a live video interview. If you'd like to watch it, click on the live video interview link in the Resources section, below.
"Afro Flow Yoga" Episode Highlights
Leslie's background in dance and yoga, including her training at The Ailey School, plus a glimpse of her personal background
Jeff's musical lineage — a pianist grandmother who was a mentor to Roland Hayes and Marion Anderson; a father who played bass for Billie Holiday, Sammy Davis Jr. and Tom Jones; a classical soprano mother — and his influences, including Quincy Jones
Leslie and Jeff's early collaborations in live-music dance performances and fitness videos
Leslie and Jeff's explorations in West Africa — how witnessing slave dungeons and participating in traditional healing rituals informed Leslie and Jeff's personal, professional and inter-cultural work
Some examples of Afro Flow Yoga performances and classes
Afro Flow Yoga as an inclusive, non-judgmental, healing, anti-racist, communal experience for anyone and everyone
Conversations about race, trauma and healing in the aftermath of George Floyd's murder
Afro-Flow Yoga's circle-class configuration — how this community-centered format promotes inclusion, connection and non-hierarchical exchange
The post-pandemic future of Afro Flow Yoga, including in-person and virtual classes and multi-day retreats (see Resources, below, for more on those)
Pilar's Experiment of the Week
Take an online Afro Flow Yoga class, or even just watch one, and notice what happens. How do you feel in your body when you follow Leslie's cues and feel into the class vibe? How long has it been since you let your body do something that just feels good?
Leslie's Experiment of the Week
Learn something about the history of the culture you came from, or spend some time studying your personal lineage. Often we know nothing about our ancestry, so give some thoughts to your roots and your interconnectedness with everyone.
Jeff's Experiment of the Week
Look at a map of the area where you live and start to recognize place or feature names that might be indigenous in origin. Learn more about the First Nation cultures that occupied or passed through the area before you.
Resources
Like this podcast? You'll love our books!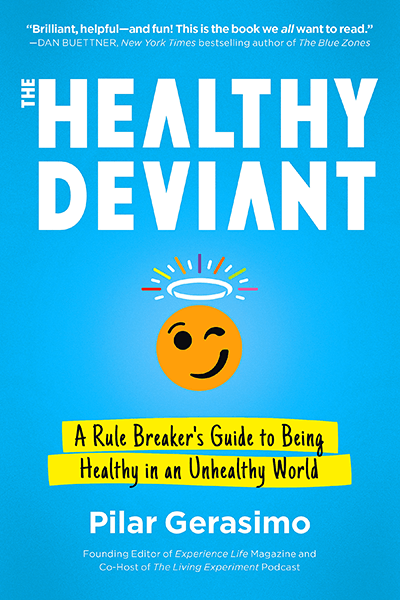 Plus …
Sign up for The Living Experiment newsletter
so you can stay up to date with us, and receive notifications when new episodes are released.
Subscribe to The Living Experiment on Apple Podcasts
to have fresh episodes delivered to your podcast feed as soon as they're released.
Sponsor Love and FREEBIES
Thanks to our sponsor,
Optimize
by Heroic, for supporting this season of The Living Experiment. Now you can get Optimize membership (formerly $250) for FREE just by signing up
here
. And check out the
Heroic social training platform
, with a goal of creating a world in which 51% of the world's population is flourishing by 2051 — starting with YOU!
Share the Love!
Have you told your friends and family about
The Living Experiment
? If you dig the podcast, please share it! And leave a review at
Apple Podcasts
or wherever you subscribe. Every recommendation from you means a lot! We'd also love to have you connect with us on
Facebook.
Tell us about your experiments, and share your thoughts, stories and reflections there.